11 Worst Networking Mistakes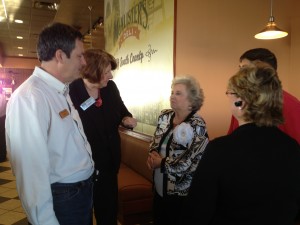 Showing up right on time or late for a networking event.  Example if you have a Chamber event or any other that you have an opportunity to network before it begins.. TAKE that time to get to know someone and NETWORK..  Showing up right on time or leaving ASAP when it is over is a real loss of connections.
Being a business card ATM..  Handing out as many business cards a possible before an event begins.  A Business card without a face (relationship) is worthless.  You have just wasted your time.  I wrote a blog post about asking me to marry me and you don't even know my name…  You are better off to hand out 2 business cards at an event with an opportunity to follow up that you are to hand out a 100 without the opportunity to connect
Monopolizing the conversation is bad for YOUR business!  Ideal situation is introduce yourself quickly WITHOUT telling what you do and ask what they do, then follow up with HOW you help clients and WHO you enjoy working with.  The entire world is not your ideal client.  Narrow that down to a niche and it will be much easier for them to refer you if they can't use your product or service.
Not caring how you dress.  That is their first impression of you.  I am not saying a Suit is the appropriate dress but do be concerned how you are being perceived.  If you are not perceived as a professional they will not take you seriously.  Now if you are in Landscaping your professional attire might be Kakis and a polo with your company logo and name embroidered on it.    Think of it this way… If you had the most well  known attorney in the world and they showed up to represent you in sweat pants and pull over.. How would you feel?  Their charisma didn't change! Their brilliant strategies didn't change but what did?  Yours and everyone else's perceived value of that attorney.
Only talking to one person the entire time.  As much as you don't want to monopolize the conversation neither do you want someone else to do the same to you.   If they are, try to find spot to ask for their business card and tell them you didn't want to take up all their time and slip out and find someone else to talk to.
Walk in and sit down……… there is nothing wrong with finding you place and saving it with your briefcase or something but do NOT sit.  If you sit down you have lost such a valuable opportunity to join in and make new contacts.  This is an opportunity to find someone else who had done this exact thing and sat down and start a conversation.
Book yourself solid with events that none of your ideal clients will be attending.  You can    run yourself ragged and never get anywhere if you are attending events that will NEVER bring your business.  Yes there is something to be said about branding and getting your company name out there but you can do that with the RIGHT events with a much better opportunity to close on business as well.  Weight it out and see where you are gaining the most business and then ask yourself is this a business investment of my time and money or am I just enjoying socializing because I know most everyone.   Have a friend who believes you should only be a part of a group for 2 years max and then move on.  This might be true if there were no new comers to the group for you to build a relationship with or if you had met with everyone in the group one on one.
Show up without BUSINESS cards..  there is one thing to have forgotten them when you usually always have them on you but to NOT have a business card or to only bring a couple..that is a major mistake!  Are you planning to make BUSINESS connections or socialize?
NO planned Elevator Speech!  You have to say something when you meet people and please as my friend Fred Miller says always talk about why people work with you or hire you.. Not I do this and I do that for customers..  This is very difficult and doesn't happen overnight.  Try to put down in 10 words of less what you really do for clients and then build your elevator speech around that.
NO follow up!  This is where if you made two great connections, ask to have coffee or lunch with them and get to know them better one on one.. You MUST build
NOT connecting online.  The first thing you should do as a business professional after an event is connect especially on LinkedIn and share how you felt about meeting them that day.   There are many other great ways to connect online  but at least start there!
We would love for you to join us on Facebook as well for Social Media tips, tools and changes.
Karen Fox – better known as Karen THE Connector –
 

is a social media coach, strategist and speaker. Karen works with companies and individuals to take the fear and frustration out of creating their online reputation with social media. She rescues those who are lost on LinkedIn, frustrated with Facebook or afraid of being Twit on Twitter.  Karen THE Connector  

© Karen THE Connector 2012