This is a self Study Course……… Easy to understand.  This is for                   anyone feeling the frustration and fear of Social Media or  the            how to, in order to build your strategic plan with the sought after Posting Calendar bonus…

 
When you see the price you are going to be shocked… this low price is so everyone can take advantage….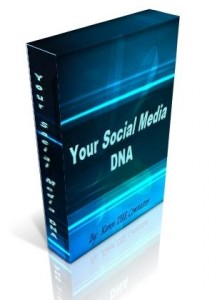 "Karen has been "coaching" me for a few  months now, teaching me the in's and out's of social media marketing. She is very patient (seems I'm a slow learner), quick to offer pertinent marketing suggestions and has the personality of an angel. Her knowledge of the subject is up to the minute, fresh and very interesting. Karen "The Connector" is a perfect resource to begin and/or progress in social marketing."  Angela F.   
Your Social Media DNA Package includes:
Frustrated with Facebook
Facebook has a reach of 800 million with half being on facebook every day.  

Is your target market on Facebook?
This course  will answer 
Why do I need a 

business Page

What is the difference in a page vs a group


Is it important what I name my page

What does it take to build a good landing page


How do I post without sounding salesy

How do I communicate my brand online

How do I embed a video

What time should I post

How do I build a strategic plan
Lost on LinkedIn
With a reach of 102 million business professionals
This Course  will answer..
How do I create a title

Why do I need recommendations

Why would I ask a question

What would joining a group do for me

Why would I want to start my own group


How do I get to the first

page

How do I choose what key words I want to use

Why do I want to know who is searching my profile
Who do I want to connect with
Feeling like a Twit 

on Twitter

 

 
This course will an
swer…
 

How do I start a twitter account

What difference does it make what my name is

How do I say everything I need to in only 140 characters

How can I post when I am out of town

Can I build groups

Who do I want to follow

How do I build a relationship

How do I find certain people

How do I share video and articles

How do I cross the social media path

How do I work with lists
Who's Who on YouTube
2nd largest search engine
this course will answer the following questions
Why do I need my own channel

How important is choosing a name

If I don't ever plan on creating a video do I still need my own channel

How does this help with SEO


Why is the owner of Youtube so important

How do I embed a video

How do I create a link

How do edit my account

How do I share content important content
To Blog or Not to Blog
This course will answer the following questions..
.com or .org

Who reads blogs

What will it do for my business

What would I talk about

How will this help my SEO

How many types of blogs are there


How often do I blog

How do I put my information on a blog

 Can I use other peoples content
How do I get my blog information on my facebook page
YOUR Social Media DNA package
includes all 5 webinars
Frustrated on Facebook Lost on Linkedin Feeling like a Twit on Twitter Who's Who on YouTube To Blog or not to Blog
BONUS #1  
Webinar How to Prepare a Posting Calendar

                                                                    You Really can't even begin your social media until you know how to create a posting calendar.   We will cover the When -Why- How of creating this tool you can't live without.
BONUS#2  
List of FREE Online tools 

                                                                                                                     Have you ever wished you knew some

FREE

tools that worked and others have used and not worry if it were a virus or something?   This is an extensive list and it will be an online list so all you have to do is click on the link and begin using.
BONUS#3 
How to create lists on Facebook Personal profile Video

                                                         Many of us began facebook so long ago all our friends, family, classmates, associations and clients are all on the same list.  Many times you don't want to send private information out to everyone so this shows you how to build your lists and how to share with only certain groups or individuals.

"We love working with Karen. She makes the impossible seem possible. It is refreshing to work with someone in the technology industry who knows their field but still makes it make sense to the common man. She has found her call in the Social Media world, as she is very sociable and a pleasure to be around. She exudes positivity and confidence in her ability to produce results."  Lisa S.

"I really enjoyed your "down to earth" training session this week. I have already recommended you to several people. Trying to see if I can set up a session for some of my friends. Glad to finally get someone who gives us the "how" not just the "why"! – Jan B.

"Karen's knowledge of social media networking is far beyond "expert". I've worked with Karen on several different social media seminars and each time I learn something new! I've had numerous clients comment on how easy it is to understand Karen and follow what she is presenting. She takes her time, is exceptionally knowledgeable and is completely interactive which helps people learn at their own pace. Clients always leave her seminars wanting more. Karen adds real value to understanding why it is so important to have a presence online with your business. I highly recommend Karen the Connector if you are in the market for a social media coach….I guarantee you won't be disappointed!"  Nina D.
This Special Price is only available if purchased by
Jan 10th 5:00 CST 
Value for this series is $677 and Bonuses….  90% off  through Jan 10, 2012  5:00 p.m.
$67.00
UNBELIEVABLE ..