When you are considering hiring someone to speak, please make sure it is
someone that is dynamic and passionate about what they do. Chances are if they
don't enjoy their job your audience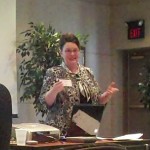 won't  enjoy hearing them speak. If you want someone who speaks from the heart and through experiences, you have contacted the right person.
Whether you are looking for someone on Social Media Marketing, Direct Sales or Leadership you can count on Karen THE Connector to deliver a dynamic presentation.
No matter the size of her audience Karen insists on customizing her presentations.  Over 27 years in Sales Leadership/ Management leans to a lot of personal experience and personal stories and she is a lifetime student.

Sales have a Strategy
Lost on LinkedIN
Don't be a Twit on Twitter
Frustrated with Facebook
Relationship Building to Sales
To Blog or not to Blog
OFFline or ONline networking
Social Media at it's finest
5 Basic Elements of Social Media     
Social Media and Direct Sales
Social Media and SEO


Please contact me directly to discuss fee.