10 Highly Valuable Blog Posts for Business Owners.  Karen THE Connector shared her list of GREAT posts for 2013.
These are some great posts by amazing experts in 2013.  Tips and tools to help any business owners.
Get More Done – 10 Steps to Accomplish More!  by The Productivity Expert Cathy Sexton with The Productivity Experts
Using Notes or a Mind Map by Fred Miller, author of No Sweat Public Speaking
Google Authorship Tutorial by Will Hanke SEO Guru with Where is My Business
ChaChing! Using Value Pricing to Grow Sales and Profit by Dale Furtwengler, parter with e4e -Experts for Entrepreneurs and author  of Pricing For Profits
Don't wait until your list is big enough by Tom Ruwitch email marketing expert with Marketvolt
Connect the marketing dots by Marketing expert Steve Smart with 2Q Solutions
10 networking stereotypes  by Julie Repa with MCA Collection Agency
How to Avoid Common Graphic Design Mistakes  shared by Electro Image LLC  Prestigious Design & Print Company
The Perfect Size Images on Social Media   by Karen Fox Social Media Coach and Strategist with Karen THE Connector
Marketing to the Maybes by Scott Kolbe, PR guru of KolbeCo
Wishing you much success in 2014.   I would highly recommend following each of these professionals the entire year for expert wisdom in how to handle different parts of your business.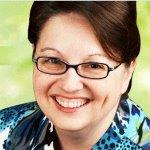 Karen Fox – better known as Karen THE Connector –  is a 
social media coach
, strategist and speaker. Karen works with companies and individuals to take the fear and frustration out of creating their online reputation with social media. She rescues those who are lost on LinkedIn, frustrated with Facebook, Feeling like a Twit on Twitter or Perplexed by Pinterest.  
Karen THE Connector