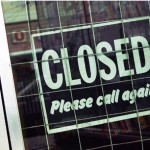 Is this what everyone thinks about your business?  Are they wondering?  If they have not heard from you in a long while this could be their assumption, especially with the attitude of the economy.
If a potential client stopped by your website would it say your business is alive and well or would it say we are hanging on by a thread.. Is everything outdated?
If a potential client stopped by your Business page on Facebook would they see an active page with lots of great content?   Remember you have to deliver what you promised when they agreed to "LIKE" you.
My Business page says if you "like" Karen THE Connector then you will receive information, changes, tips and tools on Social Media.  If you come to my sight and I have none of that would you assume I don't follow through with anything on my business?  Sure you would. It is ok to add some personal thoughts and things you enjoy just so they see a REAL personality just remember they "Liked" you for some specific reason or promise.
What about Twitter:  Does yours show 10 tweets and they were 10 months ago?  Potential clients would say your Business is Closed..
What about LinkedIn:  When looking at your posts.. when did you post last or when were your recommendations from.. 2 years ago.  This might make them think you have been doing something else and your business is closed.
What about your Blog:  Was you last Blog post a year ago?   Yes, that business is closed!
Consistency is the KEY… You want to be the ONLY business they think of when they need your product or service..
Ex:  We just had the spring break on our garage door and the ONLY company that came to my mind was F2Garage Door Solutions and I didn't consider going to Google or asking around for someone or even price comparison.  They had already influenced me enough that they were the ONLY company that came to mind..
I highly suggest building a posting calendar.. This is what I do for my clients and it takes the stress off of being inconsistent.  It allows you to have fun and post when you want to after you have everything scheduled.    My scheduler of choice is Hootsuite.
This is a GREAT article with an Editorial Calendar… Talks about how to repurpose content.
posting calendar fill in excel  by Karen THE Connector…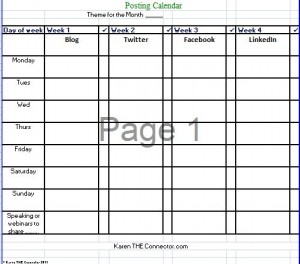 Wishing you much success and BIG sign that says OPEN for BUSINESS…
Feel free to leave a comment below on how you schedule your social media or what is working for you..