This was my post on Facebook…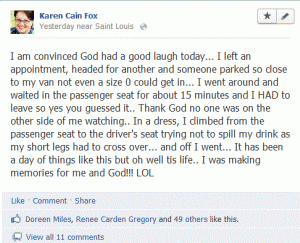 I started thinking about this related to what else… Social Media!
Many business owners stand back and say I just don't know how so I won't even try.  Nothing like being in denial.. (like trying to open my van door and it wouldn't even allow a size 0 to get in. I must admit I tried more than once to open the door to evaluate getting through that small opening)..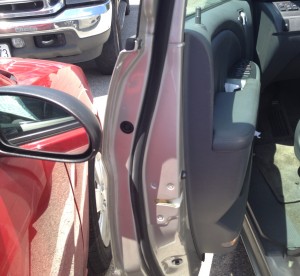 Secondly: Some set up their social media and start to use it but they aren't going anywhere.. there is no strategy so they are just sitting around waiting for something to happen.  (Just like I sat in the Passenger seat for 15 minutes waiting and hoping the owner of the Vehicle that had me blocked in would come out)
Third:  Some make a decision to not only start their social media (Facebook, Twitter, Linkedin, Google+, Pinterest and Blogging) but get help to build a Business Strategy and then start to implement and test.  (Like strategically getting from the passenger seat into the driver's seat without spilling my drink)
Fourth: Some get in the drivers seat and see the results from their time and effort  (I started the Van and headed to my next appointment after getting into the driver's seat)
I could have waited around a long time for that person to come out, which would have meant I would have missed a very important client appointment, wasted a lot of gas to stay cool and probably raised my blood pressure while waiting, knowing I was stuck.. but just like I had to make a decision to do what it took to get into the driver's seat, so must you on your social media platforms……………….. Your competition may already have left you standing outside the Van hoping the owner would come out.. Jump in and do it RIGHT and drive right past them..
If you need help getting set up, understanding, using or maintaining your sites.. check with us for a free evaluation.
3 Keys to Social Media….
#1 Get Started
#2 Have a Strategy
#3 Be Consistent
Karen Fox – better known as Karen THE Connector –
 

is a social media coach, strategist and speaker. Karen works with companies and individuals to take the fear and frustration out of creating their online reputation with social media. She rescues those who are lost on LinkedIn, frustrated with Facebook or afraid of being Twit on Twitter.  Karen THE Connector

Affiliate Disclaimer: Some of these link could contain affiliate links for which I am paid a commission.