Who doesn't like a cheat sheet or guide especially when it comes to creating eye appealing, business driving images for their social media.
Click here for the Ultimate Guide to creating the perfect size images for your social media.   In my industry as a Market Domination Strategist this is one area I see abused.   You see you devalue all the work you have put into your social media when you use an image that is pix elated and doesn't fit correctly into the social platform it is being used for.   One of my clients is a printing and design company.  Can you imagine if they used a image of wrong size what it would say about their expertise in their industry.  You wouldn't think oh they just didn't get the size right you would immediately loose trust in their expertise.
The other area of concern with images is do they tell the right story.  When you are adding an image to your website blog, flyer, Etc.
Is it the right size?
Is it placed in the right location to get the most punch from it?
Is it Clear and Clean?
Does it compliment the story?
Does it look professional?
Does it represent your brand and image?
If you answered no to any of these questions above,  then you need to rethink that image.  Remember the old saying a picture is worth a thousand words.  That is still true as most of us are visual learners so we gravitate to photos before deciding if we want to read the information that comes with that image.    Also remember images evoke emotions.
Make sure you are evoking the right emotion from your picture.  Ex: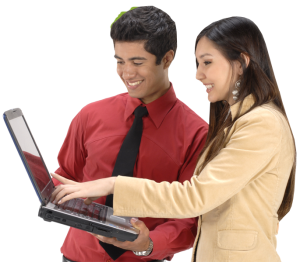 This photo to the right maybe have a computer and people viewing the computer but I would not want to use that when talking about cyber bullying.  I would want to evoke an emotion of anger to this happening in our society today.  Not all smiles because I want you to side with me and get angry that cyber bullying should be stopped.  This image would make you think I am happy about cyber bullying, it is a good thing.
My favorite tool of choice in creating images is a FREE tool called Canva.com.   I took a very expensive marketing course and the most valuable thing I came away with is the knowledge of this fabulous tool.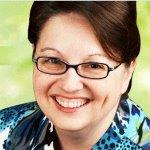 Karen Fox – better known as Karen THE Connector –  is a 
social media coach
, strategist and speaker. Karen works with companies and individuals to take the fear and frustration out of creating their online reputation with social media. She rescues those who are lost on LinkedIn, frustrated with Facebook, Feeling like a Twit on Twitter or Perplexed by Pinterest.  
Karen THE Connector