How to Hire Your First Salesperson
Are you getting too much business to handle yourself? Here's how to find a salesperson that'll support your growing startup.
By Tom Hopkins
The majority of small businessesfail in their first five years, not because of the product or service, not because of poor accounting practices, but from lack of sales. So, your business is growing and it's time for you to have someone else wear a few of those many hats you donned when you began; you've decided to hire someone else to handle sales. How and where do you find a good salesperson? After all, as a small-business owner or startup, you can't risk putting a dent in your reputation with a poor salesperson.
I strongly suggest you start where you shop. Start paying attention to the good salespeople you encounter when you're the consumer. What is it they're doing that makes you feel good about working with them? Learning to recognize good salespeople is the most important first step.
When you find someone who's especially good, compliment them. You might say, "You know, you have a really nice way with people." Salespeople love to be recognized.
Full article at Entrepreneur
Great Article regarding hiring Offline… Let's talk about Hiring ONLINE.  Granted if you found someone OFFLINE, as suggested in the article now take it ONLINE and check out their profiles on LinkedIN, Twitter and Facebook..   Most HR depts go directly to ONLINE arenas to see if they want to speak with the applicant after viewing their information.  Just recently had a bank manager tell me they didn't hire an asssitant manager because of what they found on his profile ONLINE.  This is why is it so IMPORTANT what you post online you wouldn't mind your mother viewing and more importantly you don't embellish your resume on LINKEDIN.  Big difference if you are hiring for a fastfood  company like Chic Fil A  that just opened in our area compared to a large branded company like the Bank I mentioned..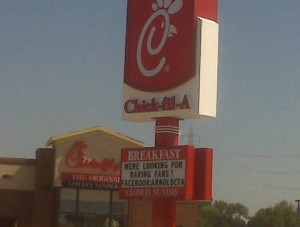 Social Media at it's best!  On one side it asked you to become a fan and other the other side it said now hiring find on Facebook…
Wise use of their marquee, using social media and with no expense for getting applicants.