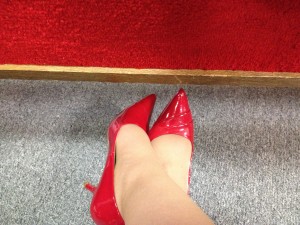 If the Shoe Fits wear it… How will you know if you don't try it on?
Social Media is like buying a new pair of shoes.  You have to break it in just like you do a new pair of shoes.
Is every social media site right for your company?  NOT necessarily but how will you know if you don't try it on..
What I mean by try it on..
Is your target market (those perfect clients) hanging out there.
Do your clients engage or interact when on the site
Can you posting regularly
Can you share the information easily
Can others spread the news easily
Can you build your brand awareness
Can you keep up with the changes
Just like purchasing a new pair of shoes, they may feel uncomfortable until you get them broke in but once you do, you enjoy wearing them and will pick them out your closet quickly because you are confident in their comfort.  Same way with Social Media, try it on, do it enough it becomes comfortable and then make sure you use it regularly!  
Also, if you wear out a pair of shoes, you have to purchase a new pair.  Social Media if not tried on, your competition will be wearing all the new shoes and your clients are going to be getting really comfortable with them.
Start with one social site – the one where most of your clients are spending time.. Say it is Twitter and start adding tweets each day until that new social site gets broken in and it becomes comfortable.  Then choose the #2 site where your clients are hanging out and try on that site.  What differentiates the sites is how much time you spend on them. 
Personally I believe a company should have a presence on the top 3 Facebook, Twitter and Linkedin.. That is for credibility.  
Pinterest is making a BIG splash and becoming so well known especially for those that an image states their business. (Ex Resturants, Retail, Direct Sales). We have always heard a picture is worth a thousand words.. still true…  Google+ is another option depending on who you are trying to influence..
If you don't know where to begin or what to do once you have started trying on your social media, that would be the time to contact me and let's see how we can take the frustration out of these new shoes not fitting well..
Karen Fox – better known as Karen THE Connector –
 

is a social media coach, strategist and speaker. Karen works with companies and individuals to take the fear and frustration out of creating their online reputation with social media. She rescues those who are lost on LinkedIn, frustrated with Facebook or afraid of being Twit on Twitter.  Karen THE Connector

Affiliate Disclaimer: Some of these link could contain affiliate links for which I am paid a commission.