Optimizing Facebook Business Pages 
Facebook Business Pages are the easiest and quickest way for businesses to have a presence on the Facebook social networking website. (Some use them as their only means of a website)  I do not recommend that but it is truly better than nothing.   A FB Page is very much like a personal profile in its appearance (which are used by individual who join Facebook), except that it's designed to be the Business side of Facebook.
People are becoming comfortable with using Facebook as their new Search Engine. Rather than using a search engine to find a product or service they need, some people are simply asking their Facebook friends for recommendations, or doing a search on Facebook itself.
They have found that we trust friend's recommendations.
See statistics below:
Begin the sign-up process by visiting the Pages area of Facebook. When you create a new account, try to choose a Page name that is as close to your real business name as possible. This will make it easier for people who you already do business with to find you on Facebook.  You can use a category and subcategory to define it more.
Once you've set up your Page, you can begin to build a following for your business. It's important to keep in mind that Facebook is still a place to build relationships with potential customers before asking for the sale. Facebook users that receive sales pitches on their Facebook walls tend to view the companies making them rather negatively. In fact, companies that try to use Facebook as a direct sales tool are quite often viewed– rightly or wrongly –as "spammers."  Don't be a spammer but build those relationships so they know- like- trust you.
This is an opportunity to build brand ambassadors and a community that love you and your service or product.  When posting a status update or link or other item to your Page, your followers can get a notification in their main news feed. You can use your Page to announce new product offerings, sales or special offers that you may be conducting, or other interesting news about your business.  With Facebook algorithm the way it has changed to get a great presence then you will need to do some advertising.
Even though they are a "Fan" of yours resist the temptation to over saturate at any time with multiple posts per day about a sale or event.  Give great content to keep your "Fans" coming back.
If you are used to advertising and promoting on your personal page this is against Facebook policy.  Does it happen every day?  Yes it does, however Facebook holds the right to close your account if you are caught doing that on a regular basis.  Be wise and create a Facebook Business Page and avoid any chances.  When people become a "FAN" they give you permission to share with them anything you like about your business.
STOP: If all of this is overwhelming to you –  slip over to my Individual Coaching Page and purchase one of my coaching packages.  Let's take the stress out of it and create the perfect plan for YOU!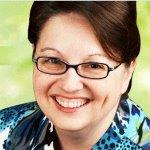 Karen Fox – better known as Karen THE Connector –  is a 
social media coach
, strategist and speaker. Karen works with companies and individuals to take the fear and frustration out of creating their online reputation with social media. She rescues those who are lost on LinkedIn, frustrated with Facebook, Feeling like a Twit on Twitter or Perplexed by Pinterest.  
Karen THE Connector