Did you notice the last category?  It says Promote…
Most are aware of this feature on the business pages but you need a minium 100 likes (they use to require 400) in order to promote anything.    This is on your Personal Profile.
Keep in mind this does not have the same viral affect a promoted post from a Business Page does..

How much does it cost to promote a post?
The cost to promote a post depends on several factors, including your geographic location and how many people you're reaching. Click Promote to see how much your post will cost to promote.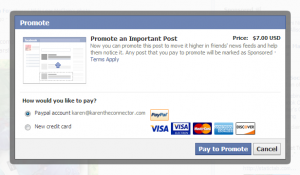 This is an example straight from my page and I have approximately 1800 friends.. As you see it would cost $7.00.
Who can see my posts I promote?
Your posts
(This is direct from Facebook) When you promote a post you're making it easier to discover for the people in the post's original audience. Promoting a post doesn't change who can see it. Promoting moves the post higher in News Feed so the people you shared it with are likely to see it.
If someone has hidden posts by you or your Page, they may not see your promoted post in News Feed.
Other people's posts
When you promote and share someone's post, it'll be labeled Sponsored by [your name] in News Feed. Promoting moves the post higher in News Feed so the people who it was originally shared with are more likely to see it, but it doesn't change who has permission to see it. Also, the post will appear on your timeline. That means anyone who had permission to see the original post who is also able to see posts on your timeline can see it there.
For example, your friend Bob posts a story about his garage sale and shares it with Friends. You can promote Bob's post and it'll move higher in News Feed for people who are Bob's friends. The story of your promotion will appear in News Feed and on your timeline, and that story can be seen by friends you have in common with Bob. If Bob's original garage sale story was set to Public, then anyone you share the promoted post with will be able to see it.
Note: If you promote a post by someone you follow, the post will only appear higher in News Feed for that person's friends.
Again, this information came direct from Facebook.  Can you think of great ways to promote a friends' post? Maybe their involvedment in a charity and you would like to get the word out for donations, would be a great way to use a promoted post.  Keep in mind it is THEIR friends that will be viewing this content so if they only have a few friends it is not going to be something you want to participate in.  What if they just shared a Big Announcement… Engagement, Baby, Promotion etc.  When you begin to get creative you will find amazing ways and things you want to promote.
Just as etiguette should prevail, just make sure if the table was turned you want this post you are promoting posted if it were yours.

Karen Fox – better known as Karen THE Connector –  is a social media coach, strategist and speaker. Karen works with companies and individuals to take the fear and frustration out of creating their online reputation with social media. She rescues those who are lost on LinkedIn, frustrated with Facebook, Feeling like a Twit on Twitter or Perplexed by Pinterest.  Karen THE Connector