Fabulous Info-Graphic on Social Media Marketing Trends:  Use this as a guide when creating your master social media marketing blueprint.

Social media marketing trends for 2014 from Social Media Examiner.
This is a fabulous inforgraphic and it is spot on…  Michael Stelzner with Social Media Examiner is one to pay attention to.   I  typically agree with their content pretty close to 100% off of the time.
Increased exposure is the #1 Benefit:  92% of Marketers say Social Media Marketing have made them more visible.   That is absolutely true whether your brand is Big Brand or for the Independent Contractor.   Social Media Marketing allows the small company to compete with the Big ones.
Visual items are on the rise.  Especially on Facebook that is the number one domination is images of any kind.  Let's face it most of us are visual learners so it makes sense images would cause us to stop and pay attention.
Content is STILL King… Nothing has changed in that arena.  FRESH new content is the ringer on this one.  Besides copy and paste being against all the rules and you get your hand slapped for duplicate content it doesn't give any value.  You know your product or service better than anyone.  Write about it!  Share it!
Anyone who knows me or has heard me speak knows how I feel about Google+.  It is VERY important to be up and running on this site.  From the infographic you can see others are becoming aware and ready to step up to the plate and learn this CRITICAL platform.  Think about it…. Google owns it.
Podcasting….  Most still have no idea what podcasting is.  Keep in mind many of us use our vehicles as a rolling university and listening to value adding improvement audios on a regular basis.  This a great way to get FREE information on a regular basis.  For Marketers it is a great platform to get their information out to the world and move them into their sales funnel.
I not only use Facebook ads for my own business but almost all of my clients we incorporate Facebook Ads.  They are reasonable and can be very targeted and now we have the advantage to retarget with ads.
Just as I tell clients on a regular basis to know your ROI (Return on Investment) is still very difficult we just have to determine our end results and work on the ROI (Return on Influence)….
Wishing you much success with your Social Media Marketing in the future… If it frustrates you or confuses you, contact me for a consult and alleviate that fear and frustration.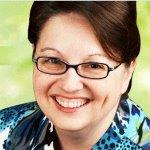 Karen Fox – better known as Karen THE Connector –  is a 
social media coach
, strategist and speaker. Karen works with companies and individuals to take the fear and frustration out of creating their online reputation with social media. She rescues those who are lost on LinkedIn, frustrated with Facebook, Feeling like a Twit on Twitter or Perplexed by Pinterest.  
Karen THE Connector