Social Platforms are virtual places you can use to stand on and project to the world what you have to offer or get your message out.
Who said you need to use all the Social Platforms anyway? You need to be able to make an educated decision on which social platforms are best for your business and industry specifica.  Which ones should you utilize?   Just remember you can have a presence on all of them but it is best to choose two or three and learn how to optimize and USE each of those completely for your business.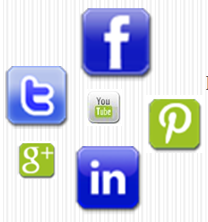 The educated consumer is the best consumer:  Let's look at each of the social platforms so you can make an educated decision.   Don't make your choice for business just because it is your favorite social media platform.
Facebook: This is one of the most underused social platforms for business there is.  Boasting 1.1 Billion users.  This social site is one that almost any business can benefit from.  Using it as a business you will need to have a Business Profile Page and not use your personal profile for business.  Facebook is the most casual of the sites for sharing information.  This is a platform you typically post on BUSINESS with a little Personal side to get to know you or the employees of the business.   This is a perfect platform for creating "Brand Champions" called Fans.  Do not begin this social platform with the thought of short term. It takes time to engage and to build a reputation and relationship with "Fans".
Pinterest:  This platform is the new kid on the block, but has grown like gangbusters with only 3 years since its creation.   This is a board sharing platform that allows people to pin (Share) information of similar likes and hobbies.  Facebook is about Face to Face you personally know people and Pinterest is all image based and similar likes.    Pinterest is better for those businesses that have an online store or services than those who only sell local since your followers can be from all over the world.    If you have a company that has images as their basis this is ideal.  Especially if you have products you can take a photo of and actually sell to the public.  This allows you to add a price tag to each item and be seen in a different category on Pinterest.   You can share Videos, images, websites, quotes on image, recipes and so much more.  Consider a Bridal shop that has a website they can purchase from.  You could target just Brides for all their wedding needs.    The greatest advantage to Pinterest is the original pinner's information (Business) shows up each time it is repinned.
Twitter:  This platform is a way to express information in 140 characters or less.  It is like an instant ongoing conversation when done correctly.  Twitter is becoming more and more popular with the younger crowd.  Probably because is it more like texting.  It moves very quickly.   This is a great opportunity for restaurants or hair salons sharing a special of the day or opening available.  Twitter  is definitely the   platform perfect for breaking news of any kind.  It does have an option of a direct message to those you are connected to.  Twitter's fastest growing demographics is 55 – 64 year olds.
LinkedIn:  This is the Business Social site.   This is the best of the business networking world.   Building connections around the world and creating JVs  (Joint Ventures)  has been made possible through LinkedIn.  It has now become a site to find a job or check out any of your competition. It is the perfect place to build a list of professionals.  It allows you to find professionals that are connected through your connections that you would in no way have an opportunity to meet otherwise by askign for an introduction.   It also gives you an opportunity to be a part of communities through groups.    Every professional needs their own profile (their resume) listed on LinkedIn.
Google+:  This platform is owned by Google as the name states so it allows you more visibility online.   This social platform is growing very quickly.  Google Plus is not just a social media networking platform but it allows you to take ownership with authorship.  This tool connects all web content.  With 540 million monthly users creating and using circles which are like lists on Twitter or Facebook it is growing rapidly.  You can easily follow industries or businesses as well as individuals.  You can create the circles and name them as you wish. This platform allows greater SEO (Search Engine Optimization).
YouTube:  Last but not least.  Knowing most people are visual, this is an amazing platform.  This allows you to create as a professional or amateur a video that can be used for many different things.  Branding, training, product launches, video-blogs, Services, demonstrations etc.  This can create an expert very quickly.  Keep it under 2 minutes for optimizing the most views.  View other videos and see which ones are getting a lot of views and then create your own version with your own products or services.  How to videos are the most popular ones.  YouTube is also owned by Google.


Karen Fox – better known as Karen THE Connector –  is a social media coach, strategist and speaker. Karen works with companies and individuals to take the fear and frustration out of creating their online reputation with social media. She rescues those who are lost on LinkedIn, frustrated with Facebook, Feeling like a Twit on Twitter or Perplexed by Pinterest.  Karen THE Connector