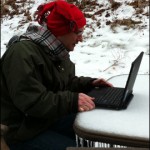 What extreme measure will you take in order to be connected with Social Media?
This is my friend and Website expert Russ Henneberry even though extremely fridged took the time to do something great for his business Tiny Business Mighty Profits.  As the EXPERT he sent out a note via the internet and who ever wanted to join him and talk SEO, Internet Business, Websites etc, he was available for questions.   That is a quick play anyone in business could use right now. If you are one of the 9 states being taunted by ice and snow like we are, use this wise man's clever way to stay in contact.
Here in St. Louis it we are preparing for a blizzard.  All we have had all day was heavy sleet.  Makes for a day inside and where have I found all my friends, family and business professionals?  Yes you are so right ONLINE..
I have noticed an increased amount of posts and those posting to my question letting me know what the weather is doing in their area on Facebook.   If you have a Businesss Page, by all means get something updated on it today.
On this impromptu call by the expert Russ Henneberry,  another guru Ed Mayuga who was on Russ' call was sharing his use of LinkedIN groups  while another guru Will Hanke shared the advantage of using Google Places for SEO.  Jack Davis shared his branding company is starting to use social media.  Cathy Sexton shared the value she is seeing by having  her company visible through social media by offering a productivity tip each day.   My Contribution was the use of a Social Media Calendar planning out your posts per month and posting them in Hootsuite ( a free service)  a week at a time. Then you may want to add posts of other happenings but you know you will have your Brand and info going out on a regular basis.  Big time saver and wise use of your time.
Opportunities are out there and many of them on the World Wide Web… Let's look for the extreme ways to add business using Social Media.   Feel Free to add your thoughts and suggestions below.
Your Reputation is ONLINE………..